According to UNICEF, the first 1,000 days of a baby's life, roughly the time spanning from conception to their second birthday, are considered the brain's window of opportunity. This is where your baby's growth and development happens, and much of it is linked to their nutrition. No pressure, but it's kind of a big deal.
Raising tiny humans is a big job and one that we as parents often stress out about. From the moment your baby is born, even before that, we're flooded with information about what's best for your baby, so much so, that it can feel overwhelming.
Once you've hurdled the obstacle of first feedings and finding your groove with breastmilk and/or formula, just when you think you're out of the woods, your baby begins to show signs of readiness for solid foods. Luckily, with a little knowledge and understanding, feeding your baby solids doesn't need to be a big deal, especially because there are some amazing baby food brands out there that have made it their mission to make it simple for parents like you and me.
In this article, I'm comparing Little Spoon, Once Upon a Farm, and Yumi – 3 of the best baby food subscriptions available. If you're at the stage of feeding your baby purees and you're looking for the brand that's going to best support the nutritional needs of your child, then stick around because I'm going to break it all down for you.
Yumi Vs. Little Spoon Versus Once Upon a Farm: Side by side table comparison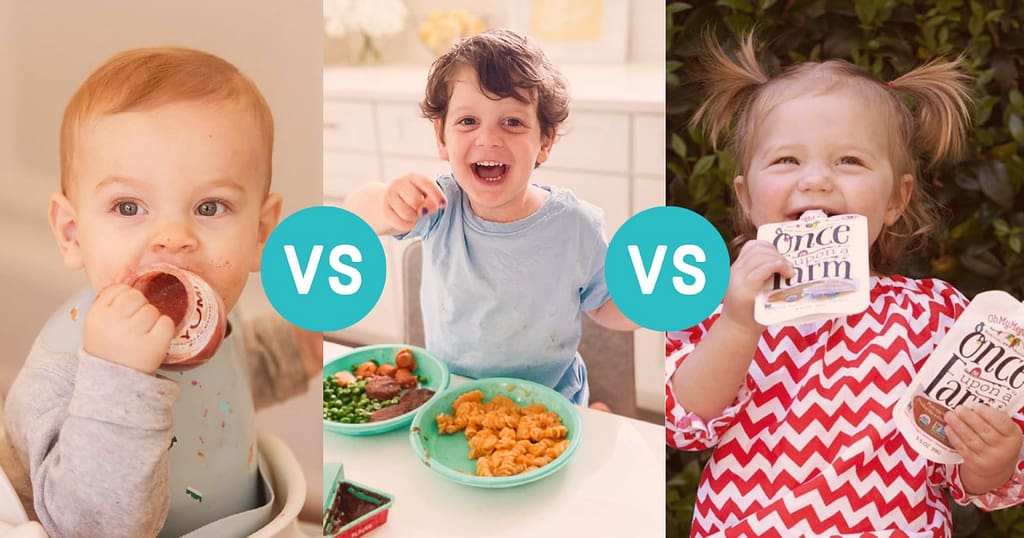 | VS | YUMI | Little Spoon | Once Upon A Farm |
| --- | --- | --- | --- |
| Starting price | $3.75 per meal | $2.74 per meal | $3.09 per meal |
| Delivery schedule | Weekly | Every two weeks | Every one, two, three, four, or five weeks |
| Rotating menu? | Yes | Yes | No |
| Age-appropriate for | 6 months - 2 years | 6 months - 10 years | 6 months - 10 years |
| Supportive of BLW (Baby-led weaning?) | Yes, they offer bites and puffs | No | No |
| Delivery method | Jar & spoon | Jar & spoon | Pouch/packet |
| Website | helloyumi.com | littlespoon.com | onceuponafarmorganics.com |
Key Similarities and Differences
Let's sum up the key similarities and differences between these three baby food brands before diving into a more detailed description of each.
How Are These Baby Food Meal Delivery Services Similar?
All three brands offer these 3 things…
Nutritional baby food options that are organic, free of junk and fillers, and carefully crafted to meet the needs of your baby.
A great deal of variety in their food selections, allowing your child to be exposed to many flavors to develop their taste buds.
A subscription service that allows you to receive your baby's food right at your doorstep each week.
How Are They Different? And, What Sets Them Apart?
Here are the 5 main differences that may help you drive your decision:
Little Spoon and Yumi serve foods from a "jar" and are meant to be spoon-fed to your child. Once Upon a Farm uses pouches.
Once Upon a Farm products are available to you at many local grocery stores, making it easy to grab while you're out. Little Spoon and Yumi are purchased online through their official website only.
Little Spoon offers the ability to grow with your child thanks to the introduction of theirPlates menu. Yumi and Once Upon a Farm do not offer toddler meals, however, Yumi does offer bites and puffs for older babies.
Once Upon a Farm and Little Spoon are slightly more budget-friendly than Yumi.
Once Upon a Farm now has baby food bowls, available only in stores, and are WIC eligible.
Ever since I was introduced to Little Spoon, I was impressed by their products, mission, and the science behind all their meals. When I was looking for baby food for my youngest, Little Spoon was at the top of my list.
I love how inexpensive they are when compared to their competitors, even the foods I could find in the grocery store. They use 100+ organic ingredients and put together flavor combinations that I would never have the creativity to cultivate on my own.
Last year, they introduced their Plates option for toddlers and bigger kids, and this only served to increase my like of the brand. As a mom of three very picky kiddos, their simple meals with wholesome, yet delicious ingredients is so refreshing. Little Spoon really takes a lot of the stress and guesswork out of feeding your child, which I think many fellow parents can agree is nearly priceless.
Yumi was another brand that I was instantly drawn to when I discovered them. Their line feels very high-end and almost gourmet to me, which really helps to justify the slightly elevated price tag.
Yumi uses 50+ different flavors in their foods, but the thing that I love the most is that they use varying textures, too. It's so important for little ones to experience various age-appropriate textures with their foods, and Yumi nails this. Their Milestone Plan takes every bit of guessing out of feeding your baby, from their first bite of solids all the way through eating bites and puffs.
Related Post: YUMI baby food review
Lastly. Yumi is the only baby food subscription service (that I'm aware of) that delivers their food weekly because it's prepared and packaged fresh each and every week. Their foods are not shelf-stable, they are made to be eaten within the week they are made, which means that they have the most nutritional content out of any option out there.
Use Code Below to get 50% Off and avoid their email list!
Considering Once Upon a Farm
One look behind the curtains at Once Upon a Farm and you'll see that one of the co-founders and the face of the brand is Jennifer Garner. Personally, I could care less about a celebrity being a founder, caring more about the quality of the foods, but I know many Jen Garner fans will be all-in.
Once Upon a Farm packages their nutritious baby and toddler foods into packets or pouches. I'll be honest, all of my children love these things, but I do know that pediatricians and dietitians warm against constant eating from a pouch as it can hinder the development of healthy eating skills. However, this is going to have to be a personal choice that you make for your child.
One thing that I find to be very convenient about Once Upon a Farm is that their foods can be found at many local grocery stores, which comes in handy when you're in a pinch and need to re-stock. Or, if you prefer to purchase your baby food with the rest of your food and don't want to deal with the commitment of a subscription service.
Final Thoughts: Which baby food will best support the nutritional needs of your child?
Before I give you my opinion and my top choice, I want to say that no matter which of these brands, Yumi, Little Spoon, or Once Upon a Farm, you choose, you're making a great choice. All three offer significantly better nutritional value than the big store brand names. That said, I also want to recognize that if you're feeding your baby and doing the best you can, then don't sweat it – you're doing an amazing job!
After evaluating all three brands, I am convinced that the brand that offers the most nutritional value is Yumi. I say this because they prepare, cook, and package their foods weekly, which inherently means that the food will be fresher and more nutrient-dense when it gets to you. So if that's your main priority, then Yumi is the way to go.
But don't get me wrong, Little Spoon and Once Upon a Farm also offer superior nutritional value and flavor. In fact, if you're looking for the brand that has the most variety in flavors and combinations, go with Little Spoon as they have over 100!
As a final thought, Once Upon a Farm is a great brand, but personally, I don't think I would subscribe to deliveries. I am more apt to great a few blends at the grocery store when I'm running low or in a pinch. I prefer to feed my kids with utensils or their hands than pouches. We mainly use pouches for the on-the-go convenience they offer.
Which Option Will You Choose?
I hope that this review has given you some important information to consider and that you're coming away with a good idea of which baby food is going to be the most nutritionally impactful for your child.
No matter which option you choose, remember, you're doing a great job! Happy mealtimes and growing babies are just ahead!